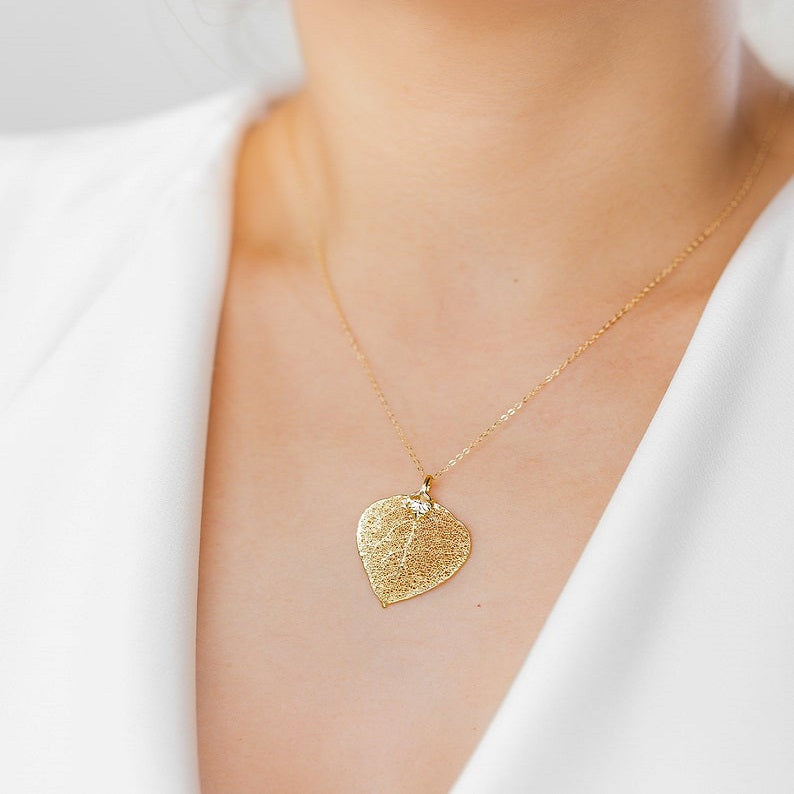 Real Leaf Pendant Necklace
$ 29.00
Silver Aspen Leaf Pendant, Gold Real Aspen Leaf Necklace, Nature Jewelry Fall Wedding, Simple Bridesmaid Gift, Christmas Gift, Gold Necklace for Women, Get necklace for girlfriend, Leaf necklace. If you're looking for what to get for mother's day get this. It can be a mother's day gift for grandma.

REAL LEAF NECKLACE

•  Large Real Leaf -- approx. 1.5"H x 1.75"W
•  Small Real Leaf -- approx. 1.25" x 1.5"
•  Tiny Real Leaf -- approx. 1" ~ 1.20"
•  Real Aspen leaf is electro-dipped pure Silver or pure 24k Gold for a quality heirloom, the real leaf is copper plated.
•  All OTHER metal setting is high-quality solid Sterling Silver or 14/20K Gold Filled for quality heirloom not plated nor vermeil (is hypoallergenic, safe for sensitive skin) and made in USA or Italy, will last for years with proper care.
•  Jewelry will come in a beautiful package From the jewelry store, ready for gifting.
•  Handmade, handcrafted in the USA.

*** Please note: the leaf on the picture is sold out, Each leaf will be unique, two leaves are NOT the same due to the nature of the leaf.