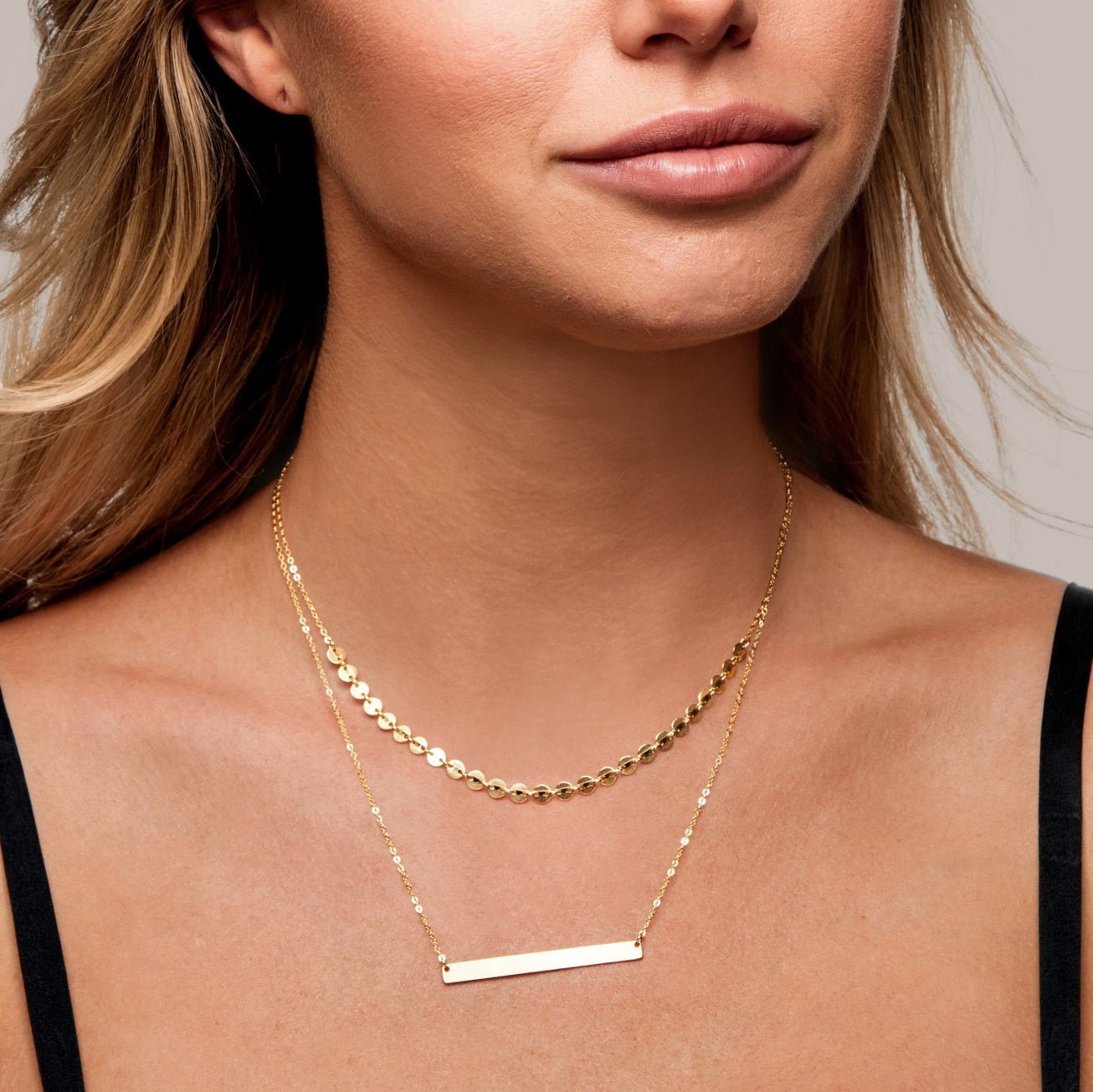 Double Layer Tattoo Coin Skinny Bar Necklace
$ 63.00
Choose this Trendy and Minimalist Coin Tattoo two strands Layered Necklace Set with Personalized Horizontal Bar Necklace size Long 1.75 inches in 14K Gold filled or 925 Sterling Silver. It's a cute necklace for her. If you're looking for what to get for mother's day get this. It can be a mother's day gift for grandma or a Mother's day gift DIY.


Engrave this coin necklace in gold with any Initial, symbol, name, or quote on the Nameplate pendant or leave it blank with your favorite texture such as Hammered, Brush, or Satin To make it a personalized bar necklace.

Layered Necklace set

• Sparkle and trendy coin tattoo necklace.
• Thick hand-cut Long skinny Bar .... approx. 3-4mm in width x 1.75" in length
• Each pendant will be smooth around the edges and put on your finished into a completely beautiful product.
• High-quality 14K Gold Filled, 925 Sterling Silver or 14K Rose Gold-filled chain and findings.
• Raw materials are from the USA or Italy
• Beautiful package without any invoice, ready for gifting.
• Handmade, handcrafted with love in TX, USA
• End-to-end length is the total length including the bar 1.75".
• The length for the bottom necklace can be changed upon request.

*** First sample picture:
"Gold Blank" option - Shiny texture bar ... Top/Bottom length 15"/18"
H O W · T O · O R D E R

* Please read all the info and check pictures for reference/options and contact us if you have any questions before placing the order, we will get back to you shortly.

• If you purchase the 2pcs set option and want the coin tattoo necklace in Choker size but want the bottom necklace to be longer than what we listed, Exp. choker 11" + 1" (extender) / 14", please specify your requested length for the bottom necklace when checking out. Exp. choker 11" + 1" (extender) but bottom is 17"

Which hand-made Texture do you prefer? Available in:
Satin
Shiny (Default)
Hammered*

(*) A blackened/darker character is recommended for this texture if you want the character to be more visible

• Do you want any character on the bar or leave it blank with your choice of texture? This depends on the option you selected on the drop bar menu above.

• Which Font do you want? Font #2A all uppercase is default

• Where do you want the character to be on the bar? Placement: Center or Right (Right is the default when facing the necklace). If your selection is more than 4 characters then Center will be the default placement.

• Do you want the character to be Blacken/Darker or leave your character Plain? The plain character is the default if not requested otherwise.