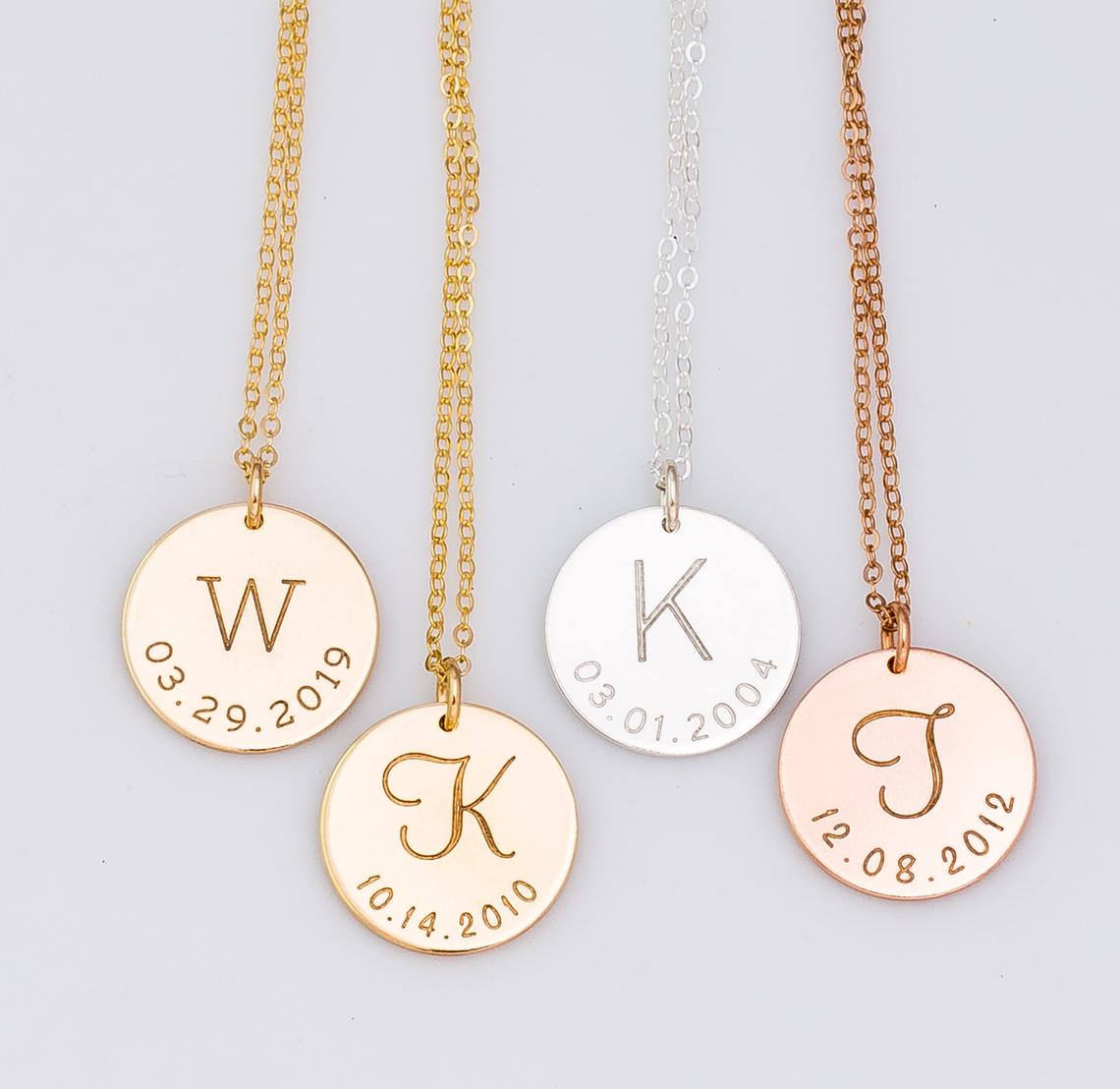 Initial and Date Necklace
$ 41.00
Personalized Initial and Date Necklace, with the name or date of your children, your grandkids' name or birth date, the day you became a wife, grandma, or a special date. Perfect gift for a new mom or grandma, as a baby shower gift, and also can be a perfect wedding gift with the last name initial and the wedding date. perfect for Mother's Day gifts or for your Grandma to keep their grandchildren by her side.

- Thick Large size disc ....... approx. 5/8" (about a dime)
- Each pendant will be smooth around the edges and put your texture into a completely beautiful product.
- All metal setting is high quality solid 925 Sterling Silver, 14K Rose Gold Filled or 14K Gold filled for quality heirloom not plated or vermeil (is hypoallergenic, safe for sensitive skin) and made in USA or Italy, will last for years with proper care.
- Jewelry will come in a beautiful package, ready for gifting.
- Handmade, handcrafted in the USA.
- End-to-end length is the total length.
H O W · T O · O R D E R

* Please read all the info and check pictures for reference/options and contact us if you have any questions before placing the order, we will get back to you shortly.

• If you are looking for a Gold necklace with 3 circles and satin-textured (please check the texture and font chart from the listing for more options), please select the option "Gold 3 discs satin" from the drop bar menu.

• In the "Add your personalization" section, specify (all Case sensitive, peridot only) from left to right when you looking at the necklace on someone
1st circle: - The Initial and The Name or Date
2nd circle: - The Initial and The Name or Date
3rd circle: - The Initial and The Name or Date
- Font number
- Phone # in case we have questions

• The second drop-bar menu is for you to choose the size you want for your necklace and the font number for your characters (initial, name, or date)

• Which hand-made texture do you prefer? We have:
-Satin
-Shiny (Default)

• If requesting the Name or Date, please specify Clearly:
-The first letter you want is an uppercase then lowercase in the same font (exp. #1A/b),
-OR you want all characters in uppercase of the same font (exp. #3A),
-OR all characters in lowercase of the same font (exp. #2b)

• Which font number do you want for your characters?