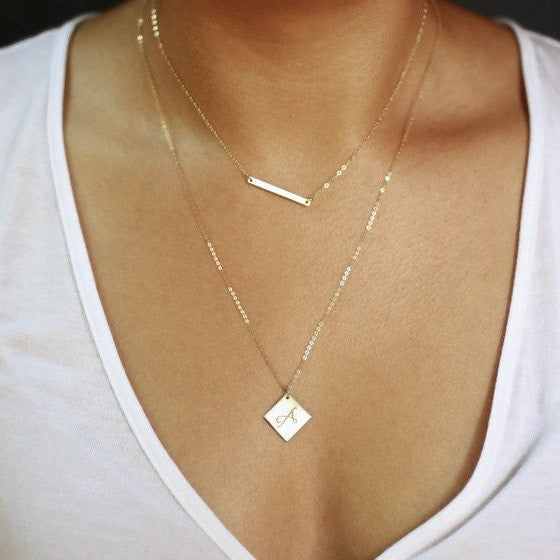 Double Layered Skinny 1" Bar and 0.5" Diamond Charm Necklace Set
$ 43.00
Layered necklace set of 2 with skinny 14k gold fill bar and personalized diamond necklace, trendy geometric jewelry also in sterling silver or rose gold fill. With a double dainty layering necklace, you will have more options to wear them together or with other necklaces for a different layer look. It is a nice personalized bar necklace and a cute necklace for a girlfriend. No matter how it's worn, it will be a cute necklace for her. If you're looking for what to get for mother's day get this. It can be mothers day gift for grandma or a mothers day gift DIY.




Layering Necklace Set of 2: Skinny 1" Bar + Diamond Shaped Plate



• Diamond plate pendant .... 0.5"
• Hand-cut short skinny bar ....... 1" (25mm x 2-4mm)
• Each pendant will be smooth around the edges and put on your texture into a completely beautiful product.
• All metal setting is high-quality 14K Gold Filled, 925 Sterling Silver or 14K Rose Gold filled for quality heirloom not plated nor vermeil (is hypoallergenic, safe for sensitive skin) and made in USA or Italy, will last for years with proper care.
• Jewelry will come in a beautiful package from the jewelry store, ready for gifting.
• Handmade, handcrafted in the USA.
• End to end length is the total length including the bar.



First sample picture: "Gold personalized" option
• Top necklace: 1" bar blank - shiny texture - 16" end to end length
• Bottom necklace: diamond charm - letter A - font #8 - shiny textured - 20"
• The total length you select will be for the shortest/top necklace is including the bar then another necklace will be spaced accordingly if you purchase as set.
Length in the sample picture is 16" & 20" but the spacing length can be changed upon request, please specify when checking out.

* These are separate necklaces, this way you can layer with your existing necklaces.

••• We do have different sizes for bar and diamond. Please contact us if you want to customize.