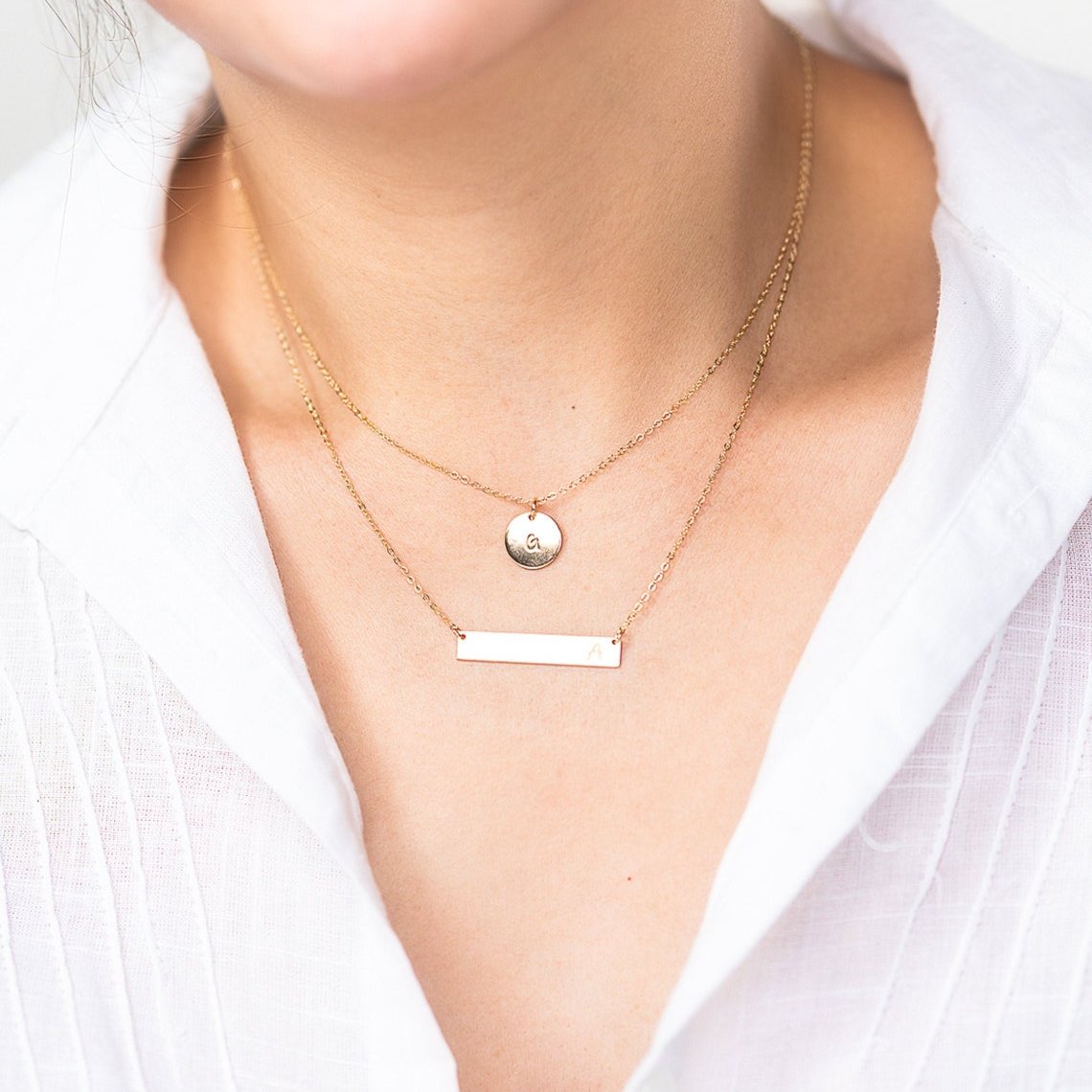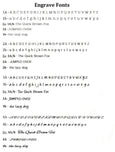 Bar and Disc Layered Necklace
$ 54.00
Personalize our bar and disc layered necklace with initials or names, birthday or anniversary dates, and more. Shop our beautiful Layered Necklace Set today!

Bar Layered Necklace / Nameplate Bar, Disc Double Strand Layered Jewelry / Silver, Rose Gold Initial Bar Monogram Circle Layering Necklace, Personalized Necklace for Mom. 
Layered Necklace Set: Dangle Medium Disc + Medium Bar
Request any character(s) for the Circle and Bar or leave them blank as pictured and hammered for an eye-catching look. You can request the disc with two holes on the sides if you prefer that. Also available in 14K Gold-filled and Rose gold-filled in other listings.

This listing includes the following:

• Thick Medium size disc............approx. 7/16
• Thick hand-cut Bar........approx. 1.25" x 0.25" (32mm x 6mm)

• Each pendant will be smooth around the edges and put on your finished into a completely beautiful product.

• .925 Sterling Silver or 14K Rose Gold Filled or 14K Gold filled for quality heirloom (is hypoallergenic, safe for sensitive skin)
• Raw materials are from the USA or Italy
• Beautiful package without any invoice, ready for gifting.
• Handmade, handcrafted with love in TX, USA
•  The length you select on the drop bar menu will be for the end-to-end length of the top and bottom necklaces (total length including the bar). The length in the sample picture is 16" & 19" but can be changed the length upon request, Please specify when checking out.



NOTE: These are 2 separate necklaces, more flexible for you to layer with your existing necklaces. When wearing 2+ necklaces together there is a great chance of the chains getting tangled and twisted.


1st picture:
-Medium Disc: Texture: Shiny - G (font #3A) End to end Length: 16"
- Medium Bar: Texture: Shiny - Blank (NO personalized) - End to end Length: 19"
.....................................................................

HOW TO ORDER WITH PERSONALIZED OPTION


••• OPTIONAL:
Do you want any ONE character on the circle OR leave it Blank as pictured with any texture of your choice?

••• Do you want any character on the bar OR leave it Blank as pictured? This depends on the option you select on the drop bar menu above.

••• What is the Placement of the character on the Bar when facing the necklace? Center or Right (Right is the default if not requested otherwise)
- If choosing the Name or Quote on the bar, please note clearly:
The first letter you want is an uppercase then lowercase
OR, you want all letters in uppercase
OR, all letters in the lower of the same font

••• Which Font do you want for your character? Font #3A is the default if not requested

••• Which hand-made Texture do you prefer? Available in:
- Satin
- Shiny......Default as pictured for both
- Hammered*
(*) Blacken/Darker characters are recommended for Satin, Brush, and Hammered textured if you want the character more visible.

••• Do you want the character to be Blackened/Darker or Plain? The plain character is the default if you don't request otherwise.