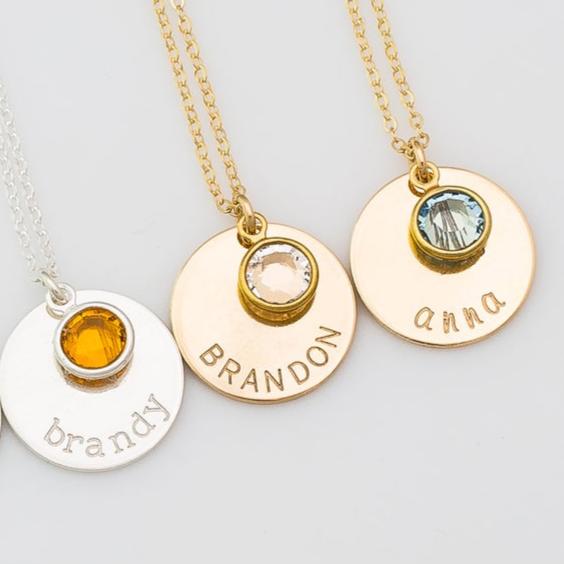 Custom Name Necklace with Birthstone
$ 39.00
Everybody is gonna be in love with this necklace! You can personalize this circle pendant with your kid's name or birth date and add the original touch with the birthstone you choose from our variety. It will be like carrying your children with you anywhere or a perfect gift to any mom.


Personalized Name Circle Charm with Birthstone

• .925 Sterling Silver or 14K Rose Gold Filled or 14K Gold filled for quality heirloom (is hypoallergenic, safe for sensitive skin)

• Thick Large size disc - approx. 5/8" (about a dime)

• Raw material from USA or Italy, will last for years with proper care.

• Beautiful package without an invoice, ready for gifting.

• Handmade, handcrafted in the USA.
H O W · T O · O R D E R

* Please read all the info and check pictures for reference/options and contact us if you have any questions before placing the order, we will get back to you shortly.
* Please specify your request/info in the "add a note to Hotmixcold" box when checking out to complete your order on time, otherwise the default option will be shipped as pictured.

• Select the metal color for each necklace with the surface texture you want. Price includes personalized + crystal for each disc option.

• Select the length that fits you or you like and the font number for your characters.

• Specify the characters to engrave (case sensitive) or date with period format only and the three-digit number of the stone you want on each disc.