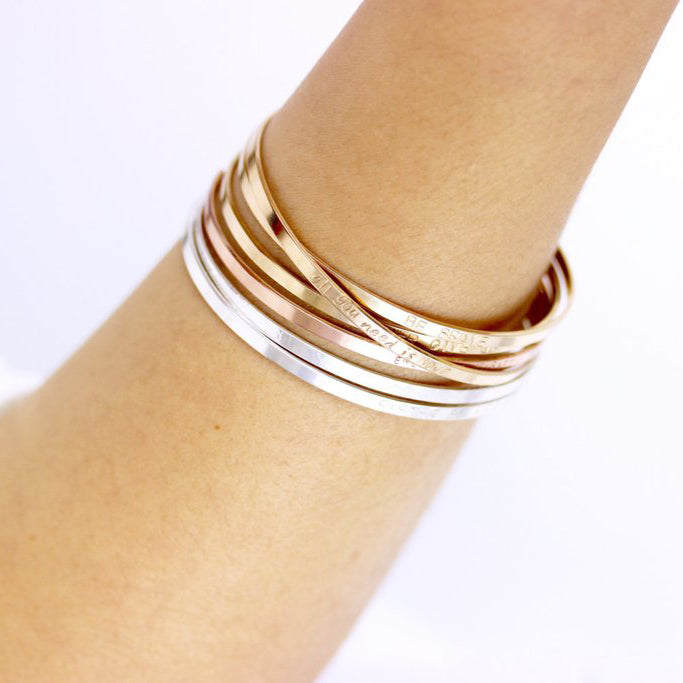 3mm Slim Cuff Bracelet
$ 33.00
Cuff Bracelet, Personalized Inspirational Bracelet, Dainty Mantra Bracelet Band, Phrase Cuff Bracelet, Meaningful Jewelry, Coordinate, Name, Word, Personalized Bracelet for Couples, Personalized Bracelet Name. Cuff Bracelet Sterling Silver and Gold

If you're looking for what to get for mother's day get this. It can be mothers day gift for grandma or a mothers day gift DIY.

• Thick Cuff bracelet - approx. 3mm in width
• Each pendant will be smooth around the edges and put on your finished into a complete beautiful product.

• .925 Sterling Silver or 14K Rose Gold Filled or 14K Gold filled for quality heirloom (is hypoallergenic, safe for sensitive skin)

• Raw material from USA or Italy, will last for years with proper care.

• Beautiful package without an invoice, ready for gifting.

• Handmade, handcrafted in the USA.

• The Cuff has about 0.5" - 1" opening so you can gently slide in and adjust it to your size.
••• Personalized on the back is available, please contact us for more details.
_________________
HOW · TO · CHOOSE · YOUR · SIZE

• Please measure at the smallest part of your wrist (not too loose or too tight) then add 0.5"- 1" for the total circumference or where you want the cuff to fall.

• Increase or decrease to the next size for a looser fit or a tighter fit if your size is in between.

• What is your wrist size at the smallest part of your wrist (not too loose or too tight)? Please let us know your wrist size so we can help you select your perfect fit.

- XS: 5.5" cuff length + 0.5"- 1" opening - approx. 6- 6.5" total circumference
- S: 6" cuff length + 0.5"- 1" opening - approx. 6.5- 7" total circumference
- M: 6.5" cuff length + 0.5"- 1" opening - approx. 7- 7.5" total circumference
- L: 7" cuff length + 0.75"- 1" opening - approx. 8" total circumference
- XL: 7.5" cuff length + 0.75"- 1" opening - approx. 8.5" total circumference
- XXL: 8" cuff length + 0.75"- 1" opening - approx. 9" total circumference