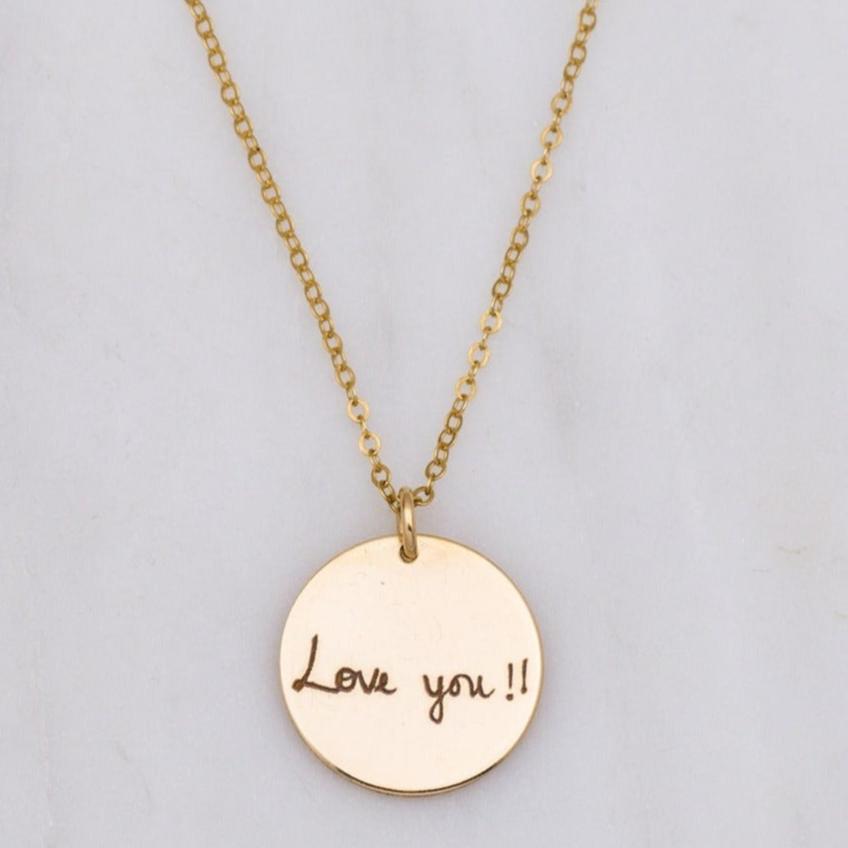 Actual Signature Necklace
$ 52.00
This necklace will make a perfect keepsake for anyone, turning your loved one's signature into a permanent reminder that you care with our quality disc jewelry.

You just need to send us a clear photo of the handwriting through email (support@hotmixcold.com) after placing the order then we will take care of the rest.


Actual Handwriting Necklace
•Thick Large size disc....... approx. 5/8" (about a dime)
• High-quality 14K Gold Filled, 925 Sterling Silver, or 14K Rose Gold-filled chain and findings.
• Raw materials are from the USA or Italy
• Beautiful package without any invoice, ready for gifting.
• Handmade, handcrafted with love in TX, USA
......................................................................

HOW TO ORDER

After you submit the order:
- Please send us a clear, high-resolution picture of the handwriting or signature (in black or very dark ink) you want to engrave on each disc via Etsy conversation/message with our store.
- If possible, please leave your phone number when checking out in case we need more information (we don't spam call or sell your information).

 Some things to keep in mind:
- The more characters in your message, the smaller the size of the character will be on your disc.
- It may be best to use a small piece of paper (5/8") that mimics the size of the disc pendant to ensure the best results.
- The better image quality and clarity, the better the engraving results, so make sure to take a clear image.