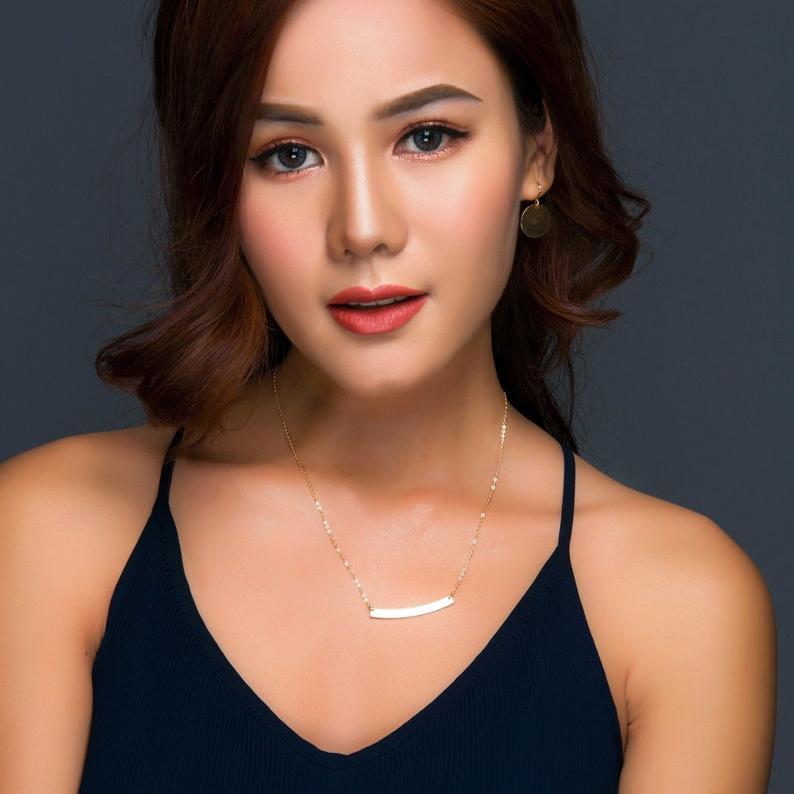 Curved Long Gold Bar Necklace
$ 23.00
Personalized initial pendant jewelry, long curve bar necklace in sterling silver, 14k gold filled or rose gold filled. Engrave this delicate bar necklace with a name, initial, symbol or leave it Blank. It is a perfect bridesmaid gift or layering necklace.


Personalized Long Curved Bar Necklace

• Thin Curved bar pendant - approx. 1.5" in length

• .925 Sterling Silver or 14K Rose Gold Filled or 14K Gold filled for quality heirloom (is hypoallergenic, safe for sensitive skin)

• Raw material from USA or Italy, will last for years with proper care.

• Beautiful package without an invoice, ready for gifting.

• Handmade, handcrafted in the USA.


1st picture: The necklace length is 18"
HOW TO ORDER WITH PERSONALIZED OPTION

* Please read all the info and check pictures for reference/options and contact us if you have any questions before placing the order, we will get back to you shortly.
* Please specify your request/info in the "note to Hotmixcold" box when checking out in order to complete your order on time, otherwise the default option will be shipped as pictured.

••• Which hand-made Texture do you prefer? Available in:
Satin
Shiny.....Default as pictured
Hammered*
(*) Blacken/darker character is recommended for Hammered textured if you want the character more visible.

••• Do you want any character on the bar or leave it blank? This depends on the option you select on the drop bar menu above.

– If choosing the Name or Quote: please note Clearly
The first letter you want is an uppercase then lowercase,
OR you want all letters in uppercase,
OR all letters in lower of the same font otherwise, we will engrave as you typed with the same font.

••• Which font do you want for the characters? Font #3A is the default if not specified

••• Blacken/darker or PLAIN character is the default

••• Where do you want the characters to be on the bar when facing the necklace? Placement of the characters: Center or Right (Right is recommended if under 7 characters).