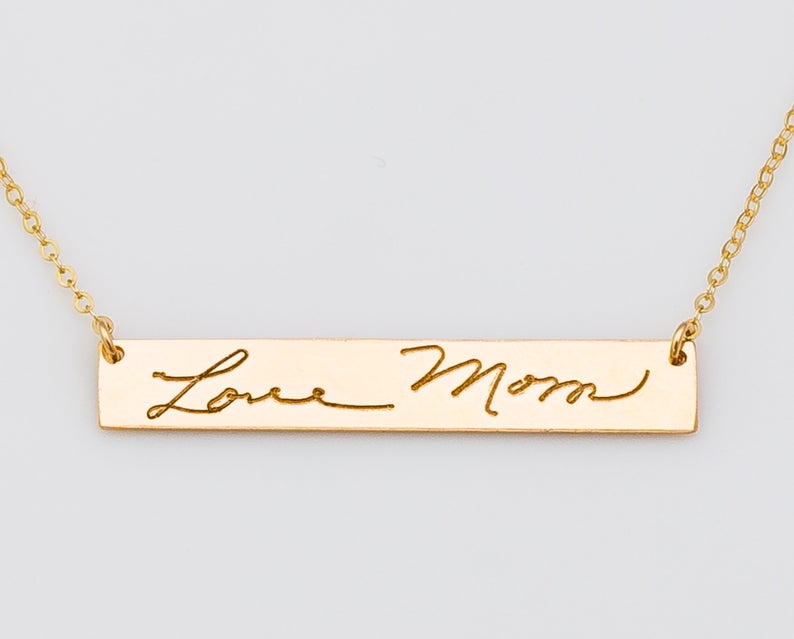 Signature Handwriting Necklace
$ 60.00
Personalized your loved ones' handwriting or signature Through This necklace with Handwriting, perfect keepsake jewelry to carry by your side. Also a cute necklace for a girlfriend. The handwriting will be engraved as to how the person had written with the clearest engraving machine and your choice of texture.
If you're looking for what to get for mother's day get this. It can be a mother's day gift for grandma or a Mother's day gift DIY.
You just need to send us a clear photo of the handwriting through email (support@hotmixcold.com) after placing the order then we will take care of the rest.

Actual Handwriting Necklace / Personalized bar necklace

• Thick hand-cut bar .......approx. 1.50" x 0.25" (37mm x 6mm)
• Each pendant will be smooth around the edges and put on your finished into a complete beautiful product.
• High-quality 14K Gold Filled, 925 Sterling Silver or 14K Rose Gold-filled chain and findings.
• Raw materials are from the USA or Italy
• Beautiful package without any invoice, ready for gifting.
• Handmade, handcrafted with love in TX, USA
• End to end length is the total length including the bar.
• End to end length is the total length including the bar.
......................................................................

HOW TO ORDER

*** Please keep in mind that the more the characters requested the character size to be smaller, it's best if you can try on the small paper 1.5" x 0.25". We will try out best to make it as clear as possible but the quality will depend on how clear of the photo.
- The plain (NOT blackened) handwriting is the default.


*** In the "add a note to HotMixCold" box before checking out, specify:
- If you choose to engrave on both sides, which handwriting on the front and back?
- Which hand-made Texture do you prefer? Available in:
Satin
Shiny - default


*** After you submit the order:
- Send us a clear high-resolution picture of the handwriting/signature (in black/dark ink) you want to engrave on each bar in the convo/message.