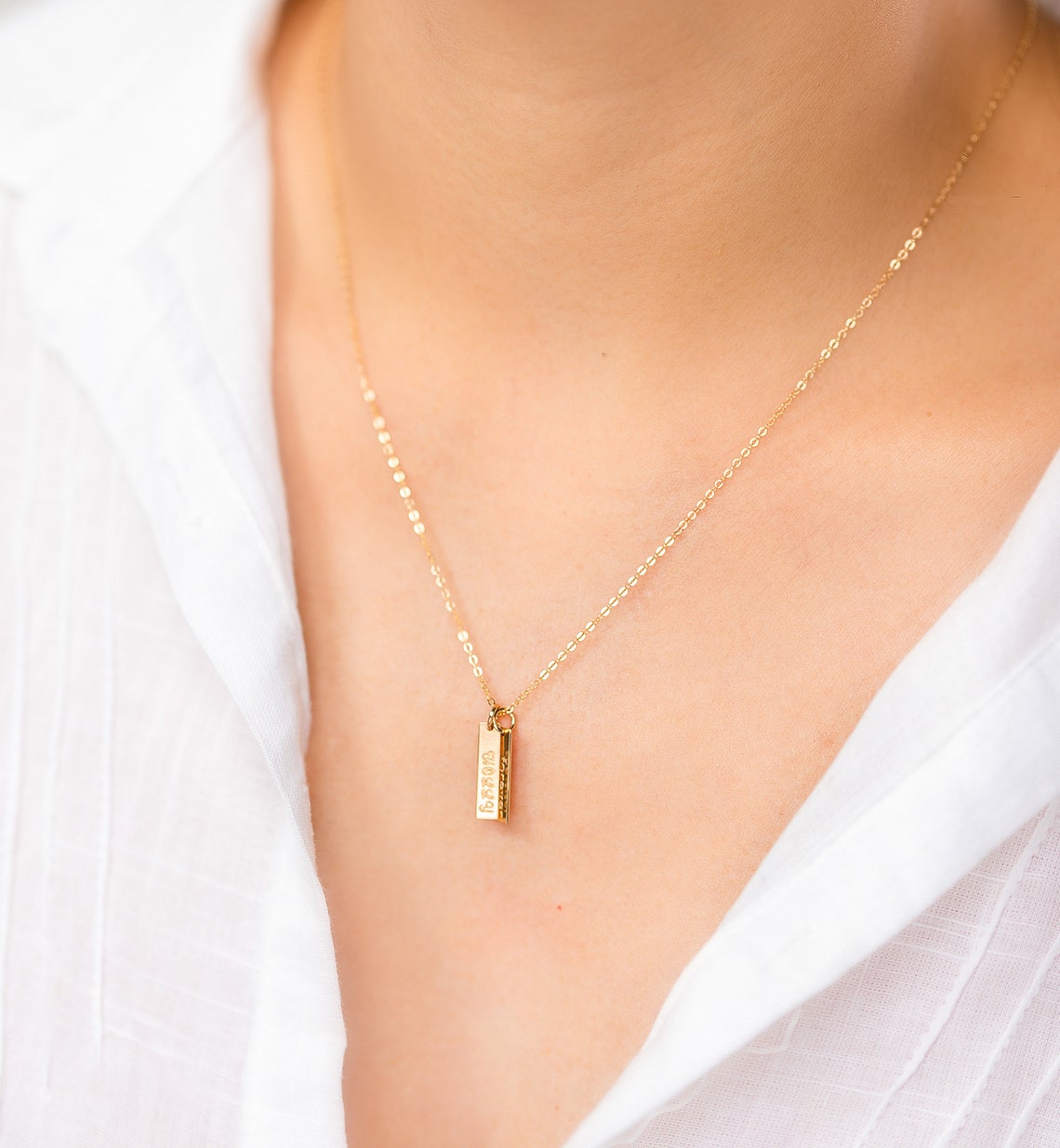 Multiple Name Tags Necklace
$ 37.00
1 2 3 Name Bar Necklace / Short Vertical Bar Pendant Necklace / Dainty Family Silver Rose Gold Bar Tag Necklace / Sister Necklace / Personalized Bar Necklace / Cute Necklace for Girlfriend

If you're looking for what to get for mother's day get this. It can be mothers day gift for grandma or a mothers day gift DIY.


Small Vertical Bar Necklace



Why not try a vertical bar instead of a horizontal one? The bar can be blank or personalized with any letter, number, symbol, or even name of your loved one. Also available with more than 1 bar necklace. It's a cute necklace for her.



• Thick hand-cut Bar........ approx. 1/4" x 5/8"
• Each pendant will be smooth around the edges and put on your texture into a completely beautiful product.
• All metal setting is high-quality solid 925 Sterling Silver, 14K Rose Gold Filled or 14K Gold Filled for quality heirloom not plated or vermeil (is hypoallergenic, safe for sensitive skin) and made in USA or Italy, will last for years with proper care.
• Jewelry will come in a beautiful package from the jewelry store without any invoice, ready for gifting.
• Handmade, handcrafted in the USA.

....................................................................

HOW TO ORDER WITH PERSONALIZED OPTION

– Please read all the info and check pictures for reference/options and contact us if you have any questions before placing the order, we will get back to you shortly.
– Please specify your request/info in the "note to Hotmixcold" box when checking out in order to complete your order on time, otherwise, the default option will be shipped as pictured.

**** How many characters can fit on one tag? To be able to see, we suggest up 6 characters but if you request up to 8 it will be very tiny. Recommend for best results to use Font #1AB, #2AB, and #3AB for long characters. Other fonts will take too much space thus having to make the font super small.



• Which handmade Texture do you prefer? Available in:

Hammered-Edge
Satin
Shiny
Brush*
Hammered*
(*) Blacken/darker character is recommended for Satin, Brush, and Hammered textured if you want the character to be more visible.

• Do you want any characters on the bar? This depends on the option you will select on the drop bar menu.

• Which font do you want for your character?

• Which layout style do you want your character on the bar?


• Do you want the character to be Blacken/darker or Plain? The plain character is the default if not noted otherwise.